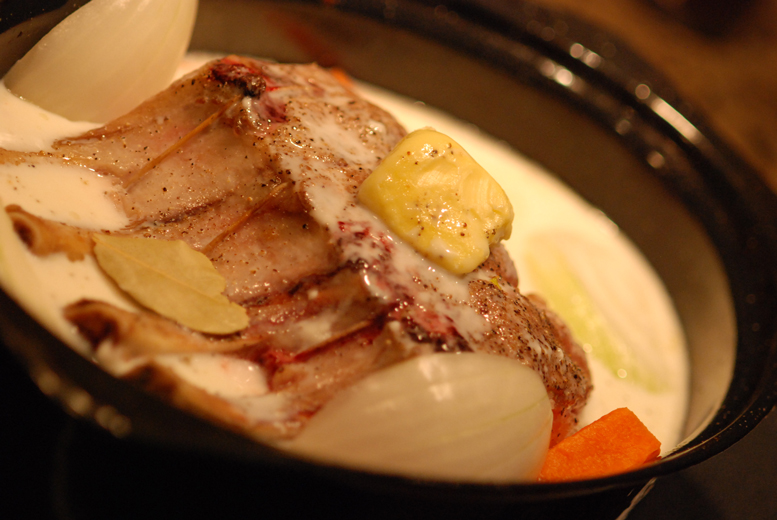 Last week I was posting on Facebook mentioning I had this rack of pork and no usual ingredients for my roasted pork meat so I ventured to try something different.  I looked up some recipes and this recipe is a French based recipe.  I do believe Italians also like to use milk for cooking (which I will find out soon as I travel in Europe in the near future).
I initially saw a milk cooked roast recipe on Laura Calder's cooking show and I seem to keep falling back and remembering fond memories of her recipes, all of course French based which I am very fond of.  I'm French Canadian, however, I love the simple use of basic ingredients in French cooking from France.  My roots might be from Normandy France, there has been some mention of that and I have not researched it to prove that I have this great mysterious history, and I am certain we all do have some wonderful ancestral stories and history here in Durham.  Our family has met so many wonderful people when we first moved here and it was like a little immigrant neighbourhood, Italian, Polish, French, English (from England) and the list goes on.  Lots of diversity in Durham and it has been prominent for many years.
Back to cooking!  This recipe is way too easy to be so rich and comforting.  It often calls for fresh herbs which would make it even more special.  Even if you have nothing other than milk and a few items, you can turn something basic into a delicious 'HOME COOKED' meal.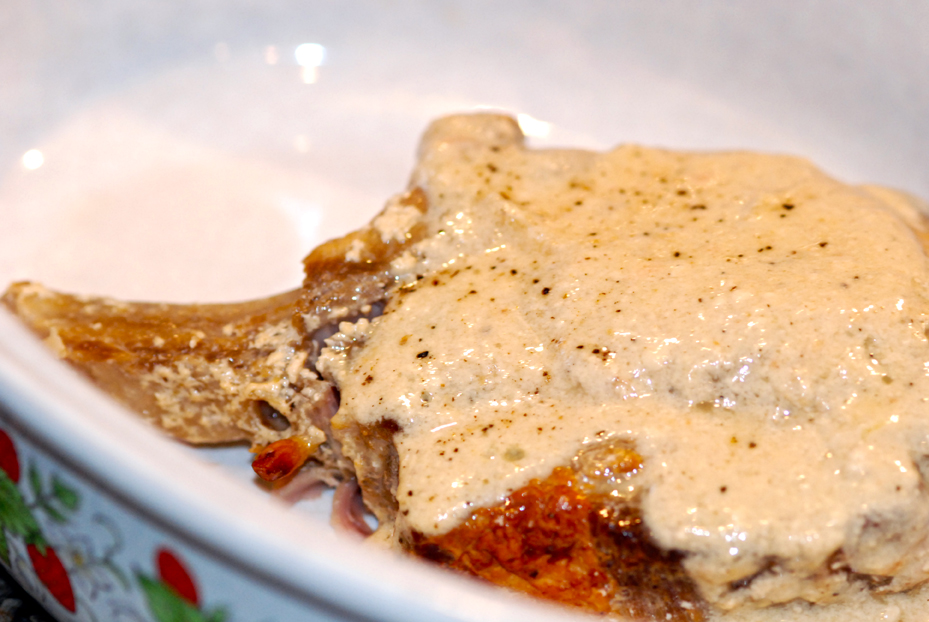 The original recipe called for fresh herbs and 4 cups milk.  I tweaked it very slightly.  I did not have much to work with.  🙂
Ingredients:
1 rack of pork (mine had about 4 ribs, not very big)
fresh garlic cloves (about 4 or 5), this is quite important ingredient
1 carrot peeled and cut in half
3 cups milk
1 cup sour cream
2 bay leaves
(calls for:  fresh rosemary and chopped chives or parsley for garnish if you have it, I only utilized the bay leaves, salt and pepper and garlic for flavour)
Add the whole pieces of garlic in your roast.  Make small slits and insert.  If you can do it the night before for several hours, then the garlic flavour is enhanced.
I browned my meat on high 500 convection for 10 minutes or so. You could do it longer for more browning.  I think I was impatient that night.
Add your milk and sour cream.  (sour cream gives it a slightly different flavour, sort of stroganoff which adds a bit of  depth).
Cook for at least for 2  hours at 325 after the high heat.  Half way through cooking, turn the meat over at least once.
When cooked, remove the meat (it might fall off the bone, so tender), set aside and keep warm with foil.
Your sauce will be milky, curdled and not very pretty, but that's expected with milk, so don't worry about looks for now.  Boil the sauce down to about 1 cup. (note i did not boil it down too rushed?).  Then puree the sauce with an immersion blender. I have the most amazing blender I bought from yard sale, it is from from Italy and it is the mother of all immersion blenders.  Nothing beats this. I have no idea what make it is, it just has an Italian flag on it.  I have a braun and it never sees daylight.
Adjust the taste with salt and pepper.  You could add mushrooms to this and fresh herbs as mentioned above.  The sauce is very comforting and homestyle.  And the great thing is you have leftover sauce and it can be used for pasta or atop some spinach or brocolli or toast crisps.  I froze the leftovers and call it Milk Pork Sauce.  Sounds weird, but it will taste just great and will be appreciated.
This meal was very reasonable in terms of cost.  The pork was on sale and you don't need to use rack of pork, I think this might work well with pork chops?  Do you dare try it?