Pancetta-Wrapped Dates Stuffed with Manchego Cheese
(Bon Appetit – February 2010)
By Lora Zarubin
When I saw this recipe, I was immediately drawn to the unique combination of ingredients and since I have this wild mint in my grass, I just had to try it.
Off to Buckingham again.  I sent my hubby who was great to help with some errands for my party.
The Manchego cheese is only one of the many cheeses they carry.  It is worth buying but hubby said, What, Ola!!! $45.00 for 1 ¼ pound?  I had no idea on the cost and ensured him it would be worth it.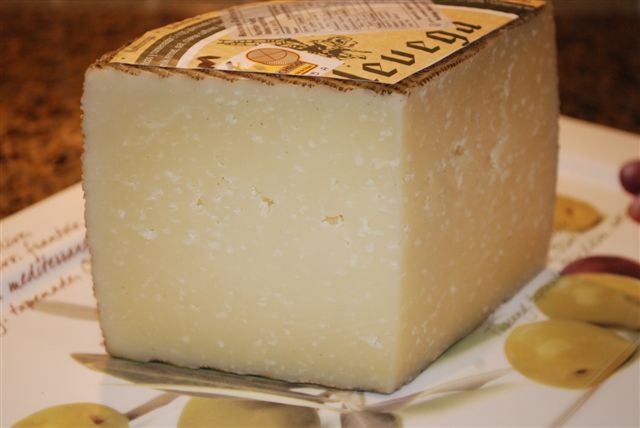 This appetizer is super delicious and best when served immediately.  I tried some leftovers and it did not have the same 'food sommersault' reaction I would expect from a small treasure tapa like this.
Here is the recipe:
Yield:  Makes 20
Ingredients:
20 Medjool dates (available at No Frills, large dates)
20 whole fresh mint leaves (or pieces from large leaves)
1 3-ounce piece Manchego cheese, cut intwo twenty 1/ ½ x ¼ x ¼ inch strips
4 3-ounce packages thinly sliced pancetta (Italian bacon)
Note:  the pancetta is important, make sure it is thinly sliced.  I went to Bakers Table in Oshawa for my pancetta, it was nice and thin.  I also did not use as much as they ask for but it was still very yummy.
Preparation:
Cut small slice off 1 short end of each date and discard. Using tweezers or needle-nose pliers, carefully remove pits from dates through small opening; discard pits. Place 1 mint leaf across opening of 1 date, covering cavity. Using 1 cheese strip, push mint leaf and cheese into date cavity. Using fingers, pinch date opening closed. Repeat with remaining dates, mint leaves, and cheese strips. Wrap 3 pancetta slices securely around each date, enclosing date completely. Place pancetta-wrapped dates on baking sheet, spacing slightly apart. DO AHEAD: Can be made 1 day ahead. Cover and refrigerate.
Preheat oven to 375°F. Bake dates uncovered until pancetta is crisp and bottoms of dates caramelize, about 30 minutes. Using tongs, transfer dates to platter and serve warm.

Read More http://www.epicurious.com/recipes/food/views/Pancetta-Wrapped-Dates-Stuffed-with-Manchego-Cheese-and-Mint-357331#ixzz2Wr9Cuws3