Nicole's Stress Casserole – Easy, Tasty & Pantry Friendly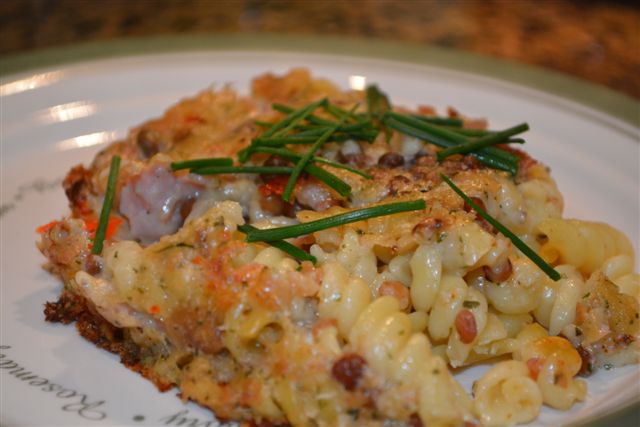 I had a rough day with some sad news of 2 people passing away.  It wasn't a good day.
I thought I need some comfort food, some pasta but not pesto, or spaghetti.  I've eaten so much  pesto I'm actually kind of sick of it (although it is amazing and versatile).
Click here for some great ideas.
So I said to myself , what do I do now?  Well I grabbed mushroom soup, box stuffing, spiral noodles, left over red pepper, 1/4 piece of left over onion, some 18% cream, some ham and a can of lentils  and I made this mess that tastes super yumeo and comforting.
This casserole is easy and fast. My staff loved it including hubby. I made a huge pan last night and there is only one little piece left.
NICOLE'S PANTRY STRESS CASSEROLE

5 cups rotini noodles – cooked 1/2 way through (quite al dente)
1/4 – 1/2 red pepper (chopped)
1/4 white onion (or what you have in fridge), chopped
1/2 can lentils (I guess you could use the whole can if you like) I used Unico brand
1 box Stuff N Such stuffing – country style flavour is what I used
1 can mushroom soup (regular salty full fat version)
1/2 cup approximately of good quality ham (chopped up) (I'm really picky about my ham)
1 – 1 1/4 cup or so of 18% cream
DIRECTIONS:
Cook noodles, half cook them
Towards the end, add your chopped red pepper and onions to soften them up
Strain noodles (with peppers and onions)
Layer the noodles and veg in buttered casserole, one layer (you could add extra veg too)
Sprinkle your lentils on top of noodles for another layer, use 1/2 can or whole can if you want more protein and legume.
Cook your stuffing according to direction.
Mix ham, stuffing, mushroom soup and the 18% cream all together.  All nice and mushy!
Spread this heavenly mess on top of the noodles.
Cover with foil, bake for approximately 45 minutes at 395 until bubbling and you can remove foil at end to brown a bit.
Optional:  you could add cheese, but you don't need it.  It is salty enough and creamy enough.
The edges of the noodles get crispy and chewy and we love that.  If you like mushy noodles, well you will have to cook them more at the beginning. (hate mushy noodles, to me that is the biggest insult in a pasta meal, just saying)
This dish reheats very easily.