"Banana Bread" Bread Pudding
Well it's time to get back on track with some cooking which I like to do and it grounds me, whether it is meatavor or my fav salad, I am getting into it and finally welcoming the New Year! 
I posted earlier about a banana loaf on Facebook, well it was dry but still so so, we ate some of it.
I have made Banana Bread before where it was super moist.  This last time I tried a new recipe, it was dry, more healthy, less oil, too much flour, so after all my slaving 🙁  it was time for some serious fixing and no wasting or throwing away this bread (which is what I was taught since a wee girl from my Daddy, so many people have no food and this continually resonates with me which means I have a difficult time throwing food away)!
So I decided to try a bread pudding using the dried up fart banana cake!  And it wasn't too bad. So here is the recipe if you care to check it out.  When piping hot, it is yummy. To reheat, I use light cream and some syrup.  Not too sweet, I figure I'm getting some bananas, some eggs and that's a start to my New Years.  Heck, I could have made a sticky yummy French caramel sauce but I didn't! 
Is that good or bad, we shall see!  Happy New Year, I'm planning on it being an awesome year!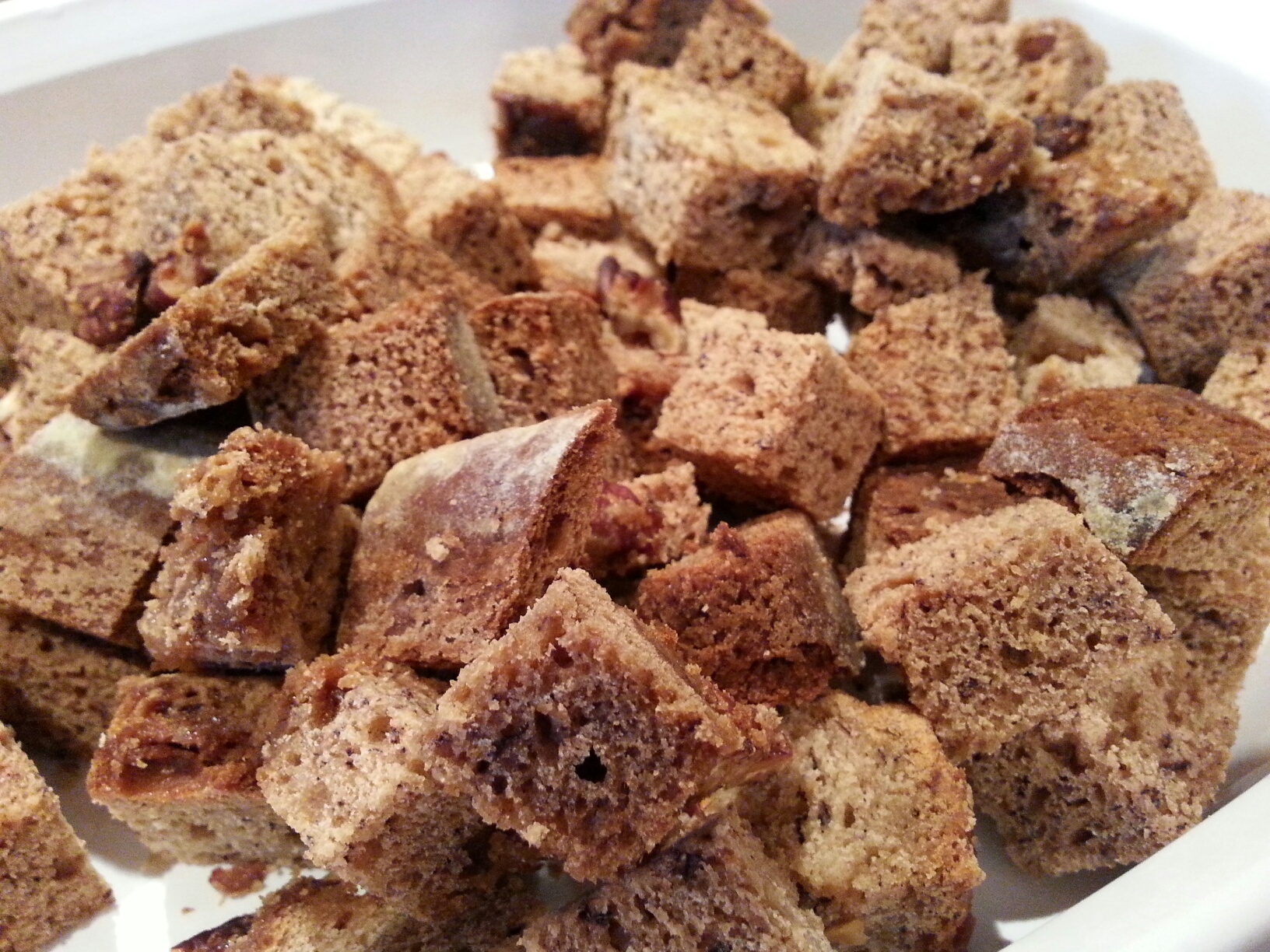 4 cups stale (dry) banana bread
2 cups milk
½ cups brown sugar
4 eggs
Raisins (optional, I did not use in this recipe)
1 teaspoon cinnamon (also did not use because my bread had spices already)
1 tablespoon pure vanilla extract (if none on hand, use the artificial).
Coarse sugar for topping (I used a bit of brown sugar)
INSTRUCTIONS:
Preheat your oven to 350 F. (180 C)
 Cube your bread. (if using raisins, mix with bread in a bowl)
 In a bowl, whisk together the milk, eggs, the sugar, spices and vanilla.  Add your bread cubes to the wet mixture.  Mix well and let soak for 15 minutes.
 Pour in lightly greased ovenproof dish (9 inch).  Sprinkle with some coarse sugar or brown sugar.
 Bake until eggs are set, the pudding firms up and the top is golden.  About 45 min to 1 hour.
Topping Options:
Vanilla ice cream
Rum sauce (recipe below)
Maple Syrup
Corn Syrup
Whipping cream or clotted cream
Butter Rum Sauce:
1/2  stick butter
1 cup brown sugar
1/2 cup whipping cream (or Carnation milk)
2 tablespoon Kracken Rum
Melt slowly, boil for a minute or so, add rum.
Serve on your favourite cake and enjoy!