Farm Fresh Matters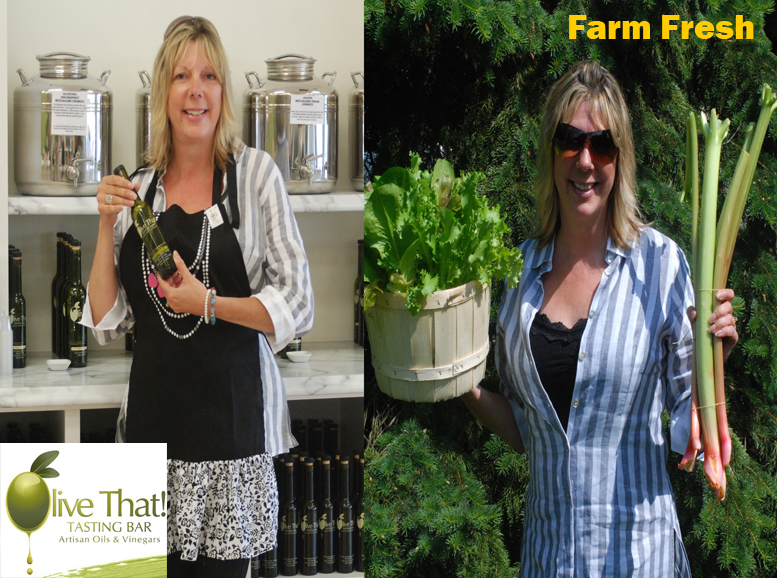 Hy Hope Farms



A heavenly little shop on Lakeridge Road North, featuring all that is homemade, daily baked breads, pies, butter tarts, 20+ varieties of preserves,  (sweet and pickled), their own beef, unique produce plus garden and vegetable plants.  The whole family gets involved and their passion shows in their wonderful harvest of goods! 
Stroud Farms
Almost a neighbor to the past Cullen Gardens, this is my 'go to' market.  Fresh picked potatoes, yellow and green beans, zucchinis, tomatoes, plums, cherries, brussel sprouts, fresh corn and more!   Opens in July, I can't wait.
Olive That
This fairly new shop in Whitby is quickly becoming a favourite to everyone in Durham.  Now it isn't a farm fresh local product, however, it is farmed from very high quality olives which we get to enjoy.   This is my other 'go to' place which is essential when making my delicious salads and I don't hesitate to use their hundreds of flavor combos in many of my recipes.  The products are so fun and versatile.  They even feature one of Oprah's favourite items.    You have to feel/taste the experience by going to this shop.
Buckingham Meats
This shop is tops!  Located on Buckingham Street in Oshawa since 1957.  It doesn't even have a sign.  I used to play on that street when I was a kid. People know of this great butcher/shop through word of mouth.  Their meat is of the optimum quality dealing with local farmers and wild caught fish.  They also feature over 100 varieties of  delicious cheeses and so many more delectable food items and produce. 
Main Store: http://www.buckinghammeatmarket.com/
Farm Market Fridays

For over 30 years, Durhamites have been visiting Friday's Farmers Market at the Oshawa Centre South/East parking lot .  They have a wonderful assortment of food, from local meats to jams, even Russian pastries that I happily discovered last year. 
http://ontariofarmfresh.com/consumers/whats-in-season/
Durham Farm Fresh Complete List and Map