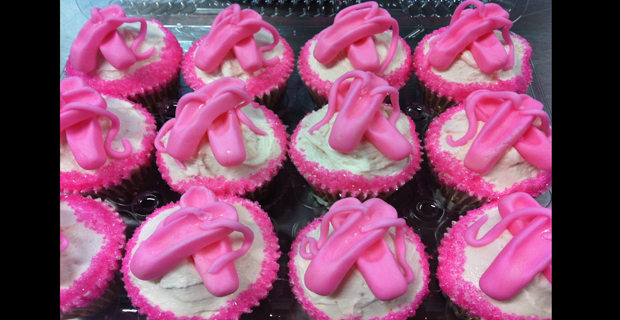 Last week I purchased a dozen biscotti cookies from Frantastic Treats.  Later that day I finally took time to indulge in this delicious chocolate biscotti topped with chocolate glaze icing: yummmmm. Honestly I could not stop myself at one; so I had two. J
This cookie (both my compadres agree with me) was even more enjoyable than a chocolate chip cookie.  They are light, super crunchy, the flavour is nutty (although all Frantastic products are nut free) and the chocolate factor is very evident.  A very yummy and satisfying cookie to be enjoyed on its own or with a tea perhaps?
I initially met Fran at a Whitby Chamber function last year and I have had the pleasure of seeing her at many local events.
I dropped in to her bakery/shop approximately two weeks ago.  I was drawn to visit her and write an article because she keeps my interest and curiosity by  Facebook posting so many delectable desserts and goodies for all occasions, including corporate luncheons and small business affairs.   I felt the passion in Fran's posts and became a little bit in awe of her creativity.
My love for food also drew me to her.  I do not dare compare myself to any food/restaurant business or chef, however, the enjoyment of cooking for others and experiencing firsthand the pleasure of your guests enjoying your cooking of food is a very satisfying reward.  Upon visiting her shop, I was even more impressed with the beautiful displays of goodies which she offers to our local businesses and community.  There is something for everyone here.
Frantastic also offers hot savoury food items available for takeout which I was not aware of, hence, more appreciation for her shop and services.  Fran's skills are natural and she came upon this talent at a very young age.  She shares her family's talent in creating good wholesome food including a culinary heritage in her Challah bread.  A rich egg bread Challah is a loaf of yeast-risen egg bread that is traditionally eaten on Shabbat, on ceremonial occasions and during Jewish festival holidays.  Born in South Africa, Fran and her family were part of a fairly large Jewish community and she appreciates all the opportunities that have been offered to her since she moved to Canada.
Fran's background also includes a degree in psychology and art therapy.  Upon chatting, she mentioned that preparing food and cooking is a form of therapy so I guess I'm getting lots of therapy these days; and I must say it's working for me.
Fran has been here in Durham for over 2 years now since her move from Toronto and she decided to root herself in our growing community.  She hasn't looked back since.
Durham region is fortunate to have her services and talent as part of our Whitby businesses and community.  Fran will be celebrating her one year anniversary in her shop on February 14th, drop by and visit her to say hi, and help her celebrate her success here in Durham.