While  perusing my daily Facebook posts last Friday, I came across this post about a new Noodle joint opening in our area.  Being a devoted noodle (pasta) lover, I immediately clicked on it.  I thought hey, this is a pretty good deal; it was calling my name so I registered to get my free voucher for a meal and bevie, and you could bring a guest.
Immediately upon arriving, 2 friendly people greeted us.  First impressions were great.  Nice welcoming and there was no long waiting line or confusion that can often happen when something is too successful.  We quickly proceeded to the cash register, placed our orders and before we knew it we were seated.
With a handy # at our table, we then grabbed our soda of choice and condiments including fresh ground pepper or salt if you so desired.  A few minutes later, a very friendly staff member brought us our food.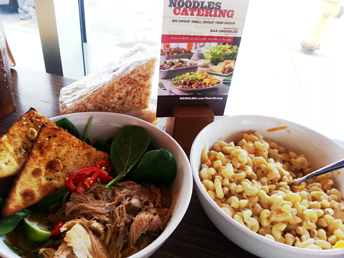 My meal of choice was Mac 'n Cheese, comforting and a classic.  They call it the Wisconsin Mac & Cheese. Click for Video At first I thought geez the cheese isn't melted, but I was instructed to stir it up and voila, it was nice and creamy and tasty.  I added fresh ground pepper and salt and I thoroughly enjoyed it. The portion was plentiful and I had leftovers for the hubby.  Bonus! Turns out even the leftover was hubby approved.
The next dish I  tried was the Thai Hot Pot.  Mmmm, this was very interesting, pretty presentation, very flavourful and so fresh looking.  A little too spicy for me, but it is perfect for the spice lovers out there and you can always add more.  What I found interesting was the sweet flavour in the broth.   I was informed it had over 30 ingredients.  WOW that's bound to make something pretty powerful and yummy!
Next time I will  try the Pad Thai.  I'm very very picky with this dish, so it will be interesting to test it.  So….. this taste trail isn't over.  Prepare to be bowled over and immersed in slippery, savoury, slurpy yummy noodles at the new Noodles & Company World Kitchen in Pickering. Be sure to also check out their online options.
http://order.noodles.com Dine it, dine out, it seems there might be something for everyone.
Oops, almost forgot, I also sampled their meatballs with a Gochujang sauce. Loved the sauce.  It seems they are vegetarian. I thought they were not meaty so that makes sense.   Now my meatballs are much meatier, but they were still tasty, it might be hubby approved but I can't guarantee that.  I would surely eat them again.  Lots of flavour!
http://www.noodles.com/dish/new-korean-bbq-meatballs-with-gochujang-go-choo-jang-sauce